Raw Food Detox Retreat at Casa Verde
At Casa Verde, our raw food – hiking – yoga retreats are among the top raw food detox retreats in the world.
During your stay, when it comes to your daily diet, you will enjoy a 100% RAW, vegan, plant-based, nutritionally balanced, alkaline diet of locally grown tropical fruits, veggies, nuts & seeds and home-made sprouts, all prepared in simple yet delicious daily recipes.
Our meal plan is nourishing, cleansing, satisfying and combines with other elements of your retreat so that you will detox both at a physical and mental level.
Everyone that attends can expect to cleanse environmental toxins; it is impossibly not to detox when you're surrounded by the pristine cloud forest. After a week at Casa Verde, you will undoubtedly depart feeling light and bright.
Vegan

Raw

Gluten-free

Organic

Low-fat
"The best experience of my life! I came to Casa Verde Raw Yoga Hiking Retreat feeling exhausted, depressed and lost.
After 10 days there with Wendy, I left feeling full of life, energized, focused and excited about life again!
Plus I lost 11 pounds there on an amazing
raw food diet.
I would highly recommend this retreat!"
-Chandra, Canada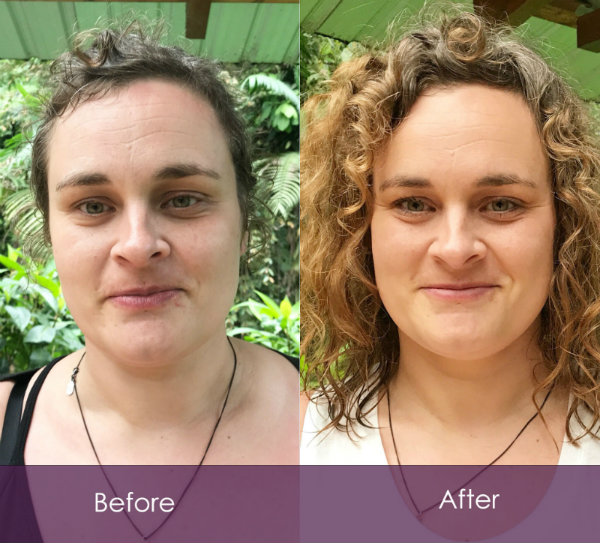 What does a raw food detox retreat menu look like?

Imagine spiralized courgette 'spaghetti' topped with a delicious herb-tomato sauce; vegetarian sushi that replaces rice with a savory carrot and almond paste; and lettuce wraps with salsa and ground pecans (just as filling as meat!), garlic, cumin and sundried tomatoes.
Many guests rave over these favorites and, while there are a few vegetarian restaurants in and around Mindo, they simply don't compare to the varied, fresh meals you'll enjoy during your raw food detox retreat at Casa Verde.

At Casa Verde,

I learned that Raw food is NOT rabbit food. I'll never be a perfect vegan, and eating a raw diet would certainly be challenging on my travels, but I'll definitely make better choices armed with this knowledge. The improved me is hungry for more raw.
A raw food detox retreat to help you lose weight?
Many people ask whether attending our detox retreats (which also include hiking and yoga!) will help them lose weight.
The short answer: If your body needs to lose weight, you can expect to shed pounds effortlessly – the difference before and after will be noticeable and, more importantly, you'll feel lighter, healthier and exceptionally clear-headed.
If you are already at your perfect weight, you can expect your weight to remain stable after your retreat, while still enjoying the benefits of feeling light and astute.
Some guests may want to add water fasting days to their retreat.
Raw food diet and Ayahuasca
An additional advantage to following a raw food diet during your retreat is that, if you decide to participate in an ayahuasca ceremony, your body is exceptionally clean, detoxed and primed to receive the medicine. The raw food diet and Ayahuasca are complementary. In fact, after a week eating raw, you'll likely be more prepared than most when you go into a ceremony!
To provide context, due to popular demand and interest, we are now offering plant medicine ceremonies as an add-on activity. We collaborate with an exclusive plant medicine retreat center in Mindo that offers ayahuasca ceremonies, as well as San Pedro ceremonies, Kambo and sweat lodges, and offers limited spaces to Casa Verde guests.