When was the last time you and your partner went on a vacation together to celebrate your relationship (not counting your honeymoon, if that applies)?
Yoga retreats for couples, whether they are couples wellness retreats, couples detox and yoga retreats (or another couples retreat configuration that we will get into later in this article), are currently in high demand, and for good reason: People are burnt out with life, work, themselves and their partners.
What better way to get back on track than a yoga retreat with your spouse or partner? Perhaps it is time for you to consider booking a couples yoga retreat. Read on to find the answer. 
Yoga Retreat Couples: Do you fit the profile?
In the same way you might need to focus on individual self-care and retreat from the world, our relationships – especially those with our significant other – may require the same sort of attention.
Not all couples that book a yoga retreat need it. Sometimes, it's just an excuse to travel to a new destination, while combining quality time, health and wellness. When you think about it, everyone could use a yoga vacation!
There are, however, clear indicators that you and your partner might actually NEED a yoga holiday together.
Signs you need a romantic getaway with your partner: 
When bills, kids, errands, work start to overshadow your relationship, it's important to take a step back and re-prioritize. If you can identify with 1 or more of the following, it might be time to book a couples yoga retreat.
Work stress influences daily interactions

You or your partner feel taken for granted

There are more negative experiences and interactions than positive ones

You are about to embark on a new phase in life like parenthood, moving in together, moving to a new state or country together

You're more like roommates than lovers

Sex is nonexistent and libido is low

You are constantly bickering and disagreeing

Time together resembles family meetings rather than quality time and intimacy

Routine has taken over, you don't do spontaneous things together

If you have kids, you may never find a moment to be alone with your partner, even (especially!) in the bedroom

You haven't had extended, pure and unadulterated down time in each others presence

You and your partner no longer feel inspired, whether in life and/or your relationship

You've been talking about a romantic getaway for years and it just never happens
What you will get out of a couples yoga holiday
Reconnection with yourself
Investing in a couples wellness retreat means you are not just investing in your relationship, but also in yourself. 
Prioritizing relationships, especially with our partners, requires energy and time. How do you intend to prioritize your relationship with someone else if your relationship with yourself has also deteriorated?
A couples yoga holiday should involve a lot of downtime in a beautiful, peaceful setting. During the first few days, you might notice that you feel calmer, more relaxed and happier with yourself. It is only then that you can start looking outwards and including your partner in the retreat and recovery process.
Reconnection with your partner
A weeklong couples yoga retreat can do wonders for a relationship, but make sure you don't have unrealistic expectations.
The goal should be simple: reconnection and relaxation.
By changing environments, routine, diet and more, you will find it easier to reconnect with your partner. That doesn't mean all your relationship issues will be addressed, but reconnection is the first step. 
Through a yoga couples experience, you will hopefully learn to feel at ease again in their presence and to share in calm relaxation by their side.
Improving yoga practice – shared yoga goals and routine
Whether one or both of you are beginners, a couples yoga holiday will spark newfound inspiration and motivation in your yoga practice. 
Most of these retreats include daily yoga sessions with experienced instructors. Within a few days, you will see major improvements in form, flexibility and energy.
When both you and your partner embark on this together, it is all the more exciting. After every session you'll share your wins and challenges and hold each other accountable as you progress.
Another huge benefit is that you will very likely establish a yoga routine together that you can take home with you. 
New habits, better health
Similar to the previous point about establishing a shared yoga routine, after a couples retreat where you learn healthier eating and lifestyle habits, it is much easier to keep these up if both you and your partner are in on it together.
We've all experienced how challenging it is to diet when your partner isn't dieting with you. They might continue to buy junk food, order in and unintentionally tempt you into "cheating".
During a couples wellness holiday, you and your partner will be redefining health and healthy habits and will be more likely to sustain them after the retreat.
Relationship reset
A couples yoga vacation will very likely breathe new life into your relationship, while improving your health and yoga practice. After a retreat, people often feel rejuvenated and optimistic, both in their own lives and in their relationships. 
In a retreat setting, you are far removed from your work, your kids, your daily chores and obligations. You have the space to do nothing and everything, you have space to breathe.
New place, new adventures
Nowadays, you'll find couples yoga retreats all over the world and in beautiful locations. While the yoga and quality time with your partner will give you purpose during your retreat, you'll also experience the adventure of exploring a new country, the sights and activities.
Types of couples yoga retreats
Couples yoga retreat structures vary and should be selected based on your shared needs and expectations. Some retreats are more general and focused on yoga, relaxation and clean living. 
Others are focused on relationship development, conflict resolution and intimacy. These often include couples workshops and therapy in addition to yoga instruction. 
Oftentimes, the couples that attend the latter are in a more dire situation, possibly dealing with serious conflicts, lack of communication, affairs and more.
Couples detox retreat
Couples commonly seek detox retreats as a result of high-stress lifestyles and unhealthy eating habits.
A couples detox retreat will usually include one or all of the following:
Morning, daily yoga or hiking activities that get you back into a healthy exercise and sleep routine

Regular healthy meals (vegan, raw or similar)

Cleaning detox treatments

Cleansing detox smoothies (raw, fruit, vegan)

Limited access to the internet, phones and computers (in fact, you better leave those at home!)

Forest bathing, river bathing, cleansing rituals

Plant medicine ceremonies, including ayahuasca, San Pedro or a Kambo detox

Days of silence

Relaxation activities like hot tub, spa and massage facilities
Casa Verde: Couples retreat with detox and yoga
Casa Verde is a highly sought-after yoga retreat center in Ecuador that offers an ongoing, private couples retreat with detox and yoga including most of the above-mentioned elements. Book a yoga couples retreat today!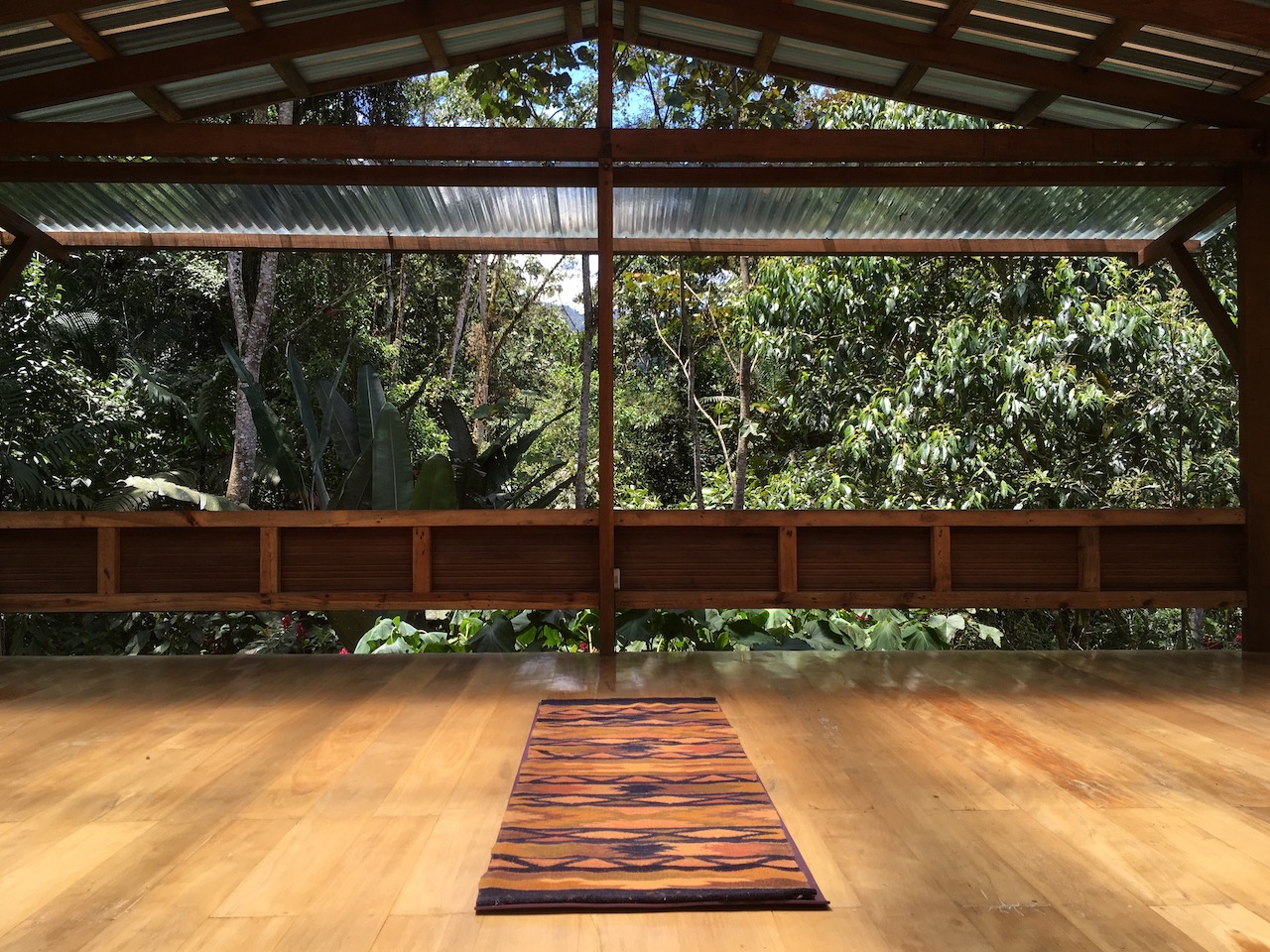 Luxury couples yoga retreat
Some couples will go all out when planning their joint yoga retreat. Luxury couples yoga retreats are a booming business all over the world, including some bucket-list destinations like Bali, Spain, and Costa Rica.
A luxury retreat takes care of all the details, planning, food, and activities so that guests may simply soak in the relaxation and spend time together.
However, these luxury holidays for couples may not be accessible to all. Expect to pay $300-$500 per day for the more standard luxury couples retreats, and up to $1,000 per day at more upscale retreat centers. 
Buddhist couples retreat
Another in-demand couples retreat option for couples that want to combine mindfulness, meditation and yoga, are Buddhist couples retreats both in the United States and abroad.
Some of these are silent meditations, which may be just what a relationship needs.
They will also include:
Healthy, light vegetarian meals

Daily yoga or qi-gong

Daily meditation practice, often at dawn and dusk

Sitting meditation, Walking meditations, eating and work meditations

Dharma talks and/or reading

Guided breathing and mindfulness exercises

More alone time than together time

Either a rigorous schedule or a completely unstructured one – it varies
Couples yoga retreat with therapy
A couples yoga treat that includes therapy is often more dedicated to addressing specific issues in the relationship. These retreats are specifically designed to include couples coaching, counseling and therapy, often requiring some individual sessions apart from couples therapy.
They might also include holistic treatments and therapies such as reiki, acupuncture, massage, inner child work and more.
Couples Yoga Retreat at Casa Verde in Ecuador
Casa Verde in Mindo, Ecuador offers couples private couples yoga retreats in a stunning, tropical setting and under the supervision of retreat owner and yoga instructor, Wendy Green.
Rated one of the best yoga retreat centers in the world, Casa Verde retreats are normally 7 to 10 days long and combine a raw food diet, daily yoga practice, hiking, forest bathing and more on an ongoing basis, year round. 
The Orchid House, one of the accommodation options during a retreat, is an independent structure on the property with breathtaking views of the surrounding cloud forest. 
Casa Verde is located on a large tract of tropical cloud forest and boasts numerous hiking trails, fresh spring water and an impressive yoga deck looking over the forest. Here, guests receive personalized ashtanga yoga instruction and enjoy a detox diet composed of 3 raw, vegan meals per day.
If you'd like to learn more about Casa Verde's Couples Yoga Retreat in Ecuador, inquire here.