Updated on December 2, 2021.
Planning your trip to Ecuador? Here's what you need to know about Ecuador travel restrictions TODAY.
To enter Ecuador as a tourist you need the following:
A negative RT-PCR test taken a maximum of 72 hours prior to travel, counting from the time the sample was taken, AND
A vaccination card showing the traveler received a complete series of the COVID-19 vaccine at least 14 days prior to travel, AND
A declaration of traveler health (the declaration is available on the Ministry of Public Health website).
More information can be found at the U.S. Embassy website: https://ec.usembassy.gov/msg211130/
These requirements are according to a recent mandate by the president of Ecuador. On November 29th, 2021, Ecuador's president announced eight measures in Ecuador against the omicron variant of COVID-19:
Entry ban for all travelers whose point of origin, stopover or transit are African countries: South Africa, Namibia, Lesotho, Zimbabwe, Botswana and Eswatini, Mozambique and Egypt.
The opening of the border with Colombia will be in phases. The first will be with the transport of goods, under biosecurity protocols, according to agreements of the transport ministries of the two countries.
To enter Ecuador, all people, nationals and foreigners, must present their complete vaccination certificate, with at least 14 days of validity, as well as a PCR test of at least 72 hours of validity.
Children and adolescents between the ages of 2 and 16, who enter the country, must present the negative result of the PCR test carried out up to 72 hours prior to shipment to Ecuador.
If a suspicious case is found among the travelers, a real-time PCR test will be carried out. In case of being positive, 14 days of isolation must be carried out.
Mass events must have a maximum capacity of 50%, complying with biosafety protocols.
The presentation of complete vaccination certificates will be mandatory for all public sector buildings. Lasso urged that the same be replicated in cinemas, theaters, bars, discos, stadiums, shopping centers or the like.
Public transport may have up to 100% capacity, provided there is natural ventilation and the mandatory use of a mask is required.
Has the Omicron variant reached Ecuador?
The Omicron variant has NOT reached Ecuador yet, though chances are this will change in the coming weeks.
Can I get a booster shot in Ecuador as a tourist?
Short answer: Yes. However, not all vaccine options are available (though, in theory, this shouldn't matter).
If you're traveling at the time that you should get your Covid booster shot, you can access one of many vaccination centers in Quito or Guayaquil. According to a recent testimony, "The MinSalud/Quito people were vaccinating all comers, no questions asked. You *must* have certification of initial vaccination(s) and ID doc matching name on the certificate. Hours are 08h00-15h30."
In terms of the vaccine type, it is Astra Zeneca across the board, unless you are immuno-compromised. Then you will get the shot that you originally received. You need a doctor's note that you are immuno-compromised.
A link to all of Ecuador's vaccination centers.
To get a Covid vaccine or booster shot in Mindo, visit the Mindo Centro de Salud, pictured below.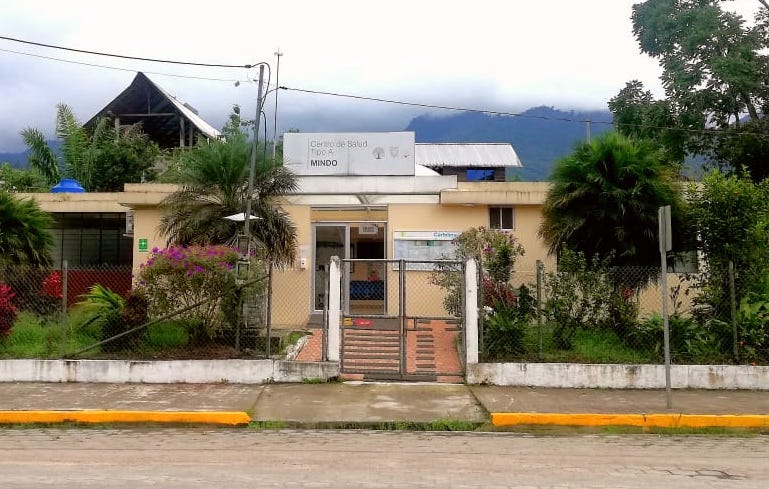 Can I get a Covid vaccine in Ecuador as a tourist?
Short answer: Yes.
As with the booster shots, Ecuador's Ministry of Health is offering vaccines to all and everyone who wants one, including tourists.
Look up where to go for your Covid shot in Ecuador.